The "original" Jam-O-Drum
Experience Music Project Seattle, WA
Photo Credit: Elaine Thompson
As a musical interactivist at Interval Research in Palo Alto, Blaine led a team of developers in the creation of a collaborative audiovisual instrument known as the Jam-O-Drum in 1998. By combining velocity sensitive input devices and computer graphics imagery into an integrated tabletop surface, six to twelve simultaneous players are able to participate in a collaborative approach to musical improvisation. The Jam-O-Drum was designed to support face-to-face audio and visual collaboration by playing on drum pads embedded in the surface to create rhythmical music and effect visual changes together using the community drum circle as a metaphor to guide the form and content of the interaction design. The Jam-O-Drum is a permanent exhibit in the heart of Sound Lab at the EMP.
| | | |
| --- | --- | --- |
| CircleMaze | Hip Hop | While teaching at Carnegie Mellon University's Entertainment Technology Center, the Jam-O-Drum turned into an immersive 3D game exhibit called "Jam-O-World" developed with Cliff Forlines and a team of graduate students at the ETC. Jam-O-World's two games, Circle Maze and Hip Hop were on exhibit at Zeum, a Youth Art and Technology Center in San Francisco from May 2001 through July 2002. Both Circle Maze and HipHop require collaboration and social interaction as a function of gameplay. |
| | | |
| --- | --- | --- |
| | Photo Credit: Mike Halberstadt and Frank DePace of Digital Pond | This is what the 3D Circle Maze exhibit looked like installed in Zeum's 30' h x 30'w conically shaped architectural space next to the Moscone Center in San Francisco. The goal was to create a fully immersive gaming experience by integrating 10' x 12' wall projections portraying three different camera angle point of views. |
ARS ELECTRONICA's Museum of the Future in Linz, Austria.

The Jam-O-Drum/CircleMaze exhibit opened September 7th, 2002 at Ars Electronica and was a popular installation for international visitors primarily due to the social engagement afforded by the collaborative game experience. It is virtually impossible to proceed beyond the first two levels of gameplay without some form of communication and leadership evolving through the players' interactions. CircleMaze stimulates especially interesting gameplay when the players don't know each other and/or speak the same language...

In September 2007, this installation moved to LABORAL in Gijon Spain.
JAMODRUM: CIRCLE MAZE at LABORAL - Center of Art & Industrial Creation as part of the Playware Exhibit in Gijon, Spain. The show runs from September 2007 through March 2008.

There are other Jamodrum Exhibits at the Carnegie Science Center and the Children's Hospital at UPMC in Pittsburgh, PA and more info about other games developed at CMU posted HERE
| | | |
| --- | --- | --- |
| Blaine's work has been exhibited at SIGGRAPH's Emerging Technologies in 2000 and 2001, Design of Interactive Systems (DIS) and has been featured in the New York Times and BusinessWeek. | | These were some of the musical interactions demo'd at Siggraph 2000 in New Orleans developed in collaboration with Tim Perkis , Greg Jalbert, and Kris Force |
Animateering at Give Kids the World Village in Kissimmee, FL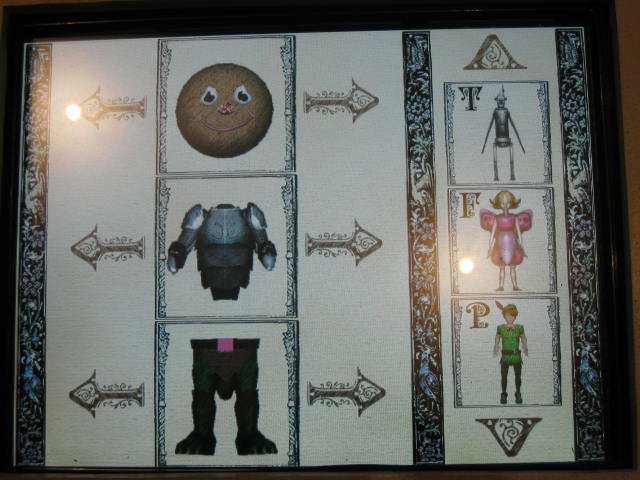 As a faculty advisor at Carnegie Mellon University's Entertainment Technology Center in Pittsburgh, PA, Blaine collaborated with a team of students and co-advisor Brenda Harger to redesign the Animateering experience that was initially developed for the Pittsburgh Children's Museum . Children create their own characters to create interactive storytelling experiences out the using touchscreens, buttons, joysticks, spinners and lots of imagination.
Brenda and Bean worked with the students to create a "toybox" approach to this form of virtual play and then expanded that to include custom "fairytale" characters conceived and developed with select students and faculty from the Art Institute of Pittsburgh. These characters were housed in a custom book interface and installed in the Castle of Dreams at Give Kids the World village. There are two other Animateering exhibits, one at the Erie Children's Museum in Erie, PA and one at Zeum in San Francisco, CA.
For Info about The Atlantic City Pier Interactive Fountain Click HERE
© 2007 tina blaine* bean