"I love your recording of 'No One Receiving.' I think it's the best version anyone's ever done of one of my songs." - Brian Eno, August 1991


"It's the groove of the future. It's all electronic, but they're real players; these women really know what they're doing. This is not just a bunch of dumb computer heads -- this is a real, live, feeling, fire-breathing band." - Mickey Hart, KPFA-FM interview, Feb. 1992


"These women are geniuses!" - Richard Hart, KRON-TV (NBC) News, March 1992


"D'CuCKOO's method of music-making is among the most original and wide-ranging anywhere in the world." - Jonathan E, BAM Magazine, May 1992

"The music is hot and engaging." - Michael Rogers, Newsweek, November 1990


"Future anthropologists must consider how D'CuCKOO embodies our dreams...Part of the charm of seeing D'CuCKOO perform is just watching them. The women have a sensuous stage presence. All highly adept multi-instrumentalists, they dance among their unique instruments, trading off in an elaborate choreography. D'CuCKOO's songwriting has strength to equal their electronic expertise and musical performance chops...D'CuCKOO is a must-see band." - Ed Tywoniak, Mondo 2000 Magazine,1991




D'CuCKOO at DisneyWorld, 1994

Techno-hell but all smiles after jamming with herbie hancock...

L to R: Janelle, Bean, Candice, Linda, Jennifer, Terrie, and Kim.

D'CuCKOO's MidiBall in Action at the Catalyst in Santa Cruz

D'CuCKOO's high-energy live performances were multimedia events, accentuated by live video, computer graphics and interaction with the audience. D'CuCKOO shows were innovative and surprising, with interactive "showtoys" such as the famous D'CuCKOO MIDIBALL and RiGBy, an animated, 3-D, computer-generated puppet. RiGBy was generated in real time by a Silicon Graphics Iris Indigo. RiGBy's facial features and position were controlled by Ron Fischer, D'CuCKOO's "digital puppeteer"; RiGBy's voice is an alter-ego of Linda Jacobson, D'CuCKOO's "Virtriloquist" (virtual "ventriloquist"), who riffed from offstage with the band and audience.

With music, you can create a transformational experience, one that draws in the audience as it grooves to the beat of technojuju. By integrating various media, such as our MIDI trigger instruments with real-time computer graphic visuals and digital puppetry, we tried to move the computer closer to the expressions of body and soul. Our challenge was to use these technologies in fresh ways to spark emotions and encourage group interaction.

D'CuCKOO disbanded in 1998 --- several of the bandmembers are now in RhythMix and others can still be found playing music around the Bay Area. Candice is now in Hawaii developing the world's first graphics synthesizer called Studio Artist with John Dalton.

Lured by the call of the drum, Bean has travelled around the world in pursuit of percussion. A spontaneous trip to West Africa in 1982 metamorphosed into a two-year journey throughout Africa and Asia. Ethnomusicology became her passion as she studied with master drummers and dancers of the Senegalese and Congolese National Ballet Companies. Inspired by their collective spirit, upon her return to the U.S. in 1984, she shared her experiences of music and dance with the Zulu Warriors and the San Francisco Underground Marimba Ensemble, through building acoustic Shona marimbas. With a background in engineering at the University of Michigan, it wasn't long before the acoustic instruments evolved into electronic marimbas and drum triggers. In 1986, Bean she co-founded D'CuCKOO with Candice Pacheco and Patti Clemens. Together, they built the first several rounds of instruments that would become the foundation for this eclectic cybertribal world funk ensemble well-known for building custom MIDI controllers and audience participation devices for live performance.

D'CuCKOO, invented digital percussion instruments that accompanied a musical alchemy of layered vocals, rhythms and sampled sounds of multicultural inspiration. We were inspired by the global traditions that encourage everyone to participate in the creation of music. Our goal was to infuse western culture with a participatory approach, using digital technology as the vehicle, and treating our audiences as collaborators in the pursuit of new audio-visual explorations.

RiGBy

and then there were three....

D'Early years....








RhythMix (clockwise L -> R): Naomi True, Carolyn Brandy, Bean, Janet Koike & Terrie Odabi

Featuring an exciting array of ethnic percussion, vocals and rhythms from around the world, this dynamic quintet of drummers in RhythMix creates a unique sound that appeals to all ages. Naomi True, Carolyn Brandy, Bean, Janet Koike and Terrie Odabi joined forces to create an inspired polyrhythmic interpretation of Taiko, Congas, Djembe, Dumbek, Cajon, Balafon, Santur, Chekere and Voice.

In the summer of 2001, RhythMix had a fantastic cultural exchange/study and performance tour with members of Kodo and Hana-Yui on Sado Island in Japan. RhythMix returned to Sado Island to perform at Earth Celebration in 2003.

In the SF Bay area, RhythMix performs concerts and offers special programs in schools and institutions provided through Young Audiences of the Bay Area and Bread & Roses. Janet Koike is currently renovating a building in Alameda to create a percussive arts center scheduled to open in May of 2007. Check out the RhythMix website for more info.








haunted by waters...

Celtic, Middle Eastern and African influences were woven into a compelling vocal and rhythmic texture featuring guitars, keyboards, bass, didgeridu, pennywhistle, wooden flute, electric violin and a variety of exotic percussion in the group known as Haunted by Waters. (L to R) Bean, Cait McWhir, David Hannibal, Gerry Basserman and Greg Stone. Jeff Obee. Geffree Andrews and Rhan Wilson also played with us for several years. A few years ago we had a Haunted Reunion called Mystic Caravan at Enso's in Half Moon Bay. Links to music are available here.
In the "burg", Bean occasionally played with the University of Pittsburgh Gamelan Ensemble and Jim Dispirito's Big World and further developed the Circumference Cycles project with Robin Stanaway and Chris Strollo with a grant from the Berkman Development Fund.
Missing her musical connections in the Bay area, Bean took a sabbatical from CMU and moved back to Oakland, CA to pursue more music, art, sound healing and life as an entertainment technology consultant. She joined Maze Daiko and started twisting traditional Japanese Taiko with all kinds of other percussion...
and then started teaching Sound Healing workshops with Cait McWhir (formerly of Haunted by Waters). This led to performances with SHAKINI chanting and playing percussion in a cave concert in the Marin Headlands with Mark Deutsch (inventor of the Bazantar), Matthew Montfort (leader of Ancient Future playing Glissentar) and Jaron Lanier (ethnomusicologist/world musican and celebrated scientist) the Jomon Butoh Troupe and the Enchantress Goddesses. Next thing you know, the women of Shakini are playing a Peace Concert at Grace Cathedral in SF and doing kirtans on Friday nights around the East bay. There's a new Shakini myspace page where you can check out some of our music.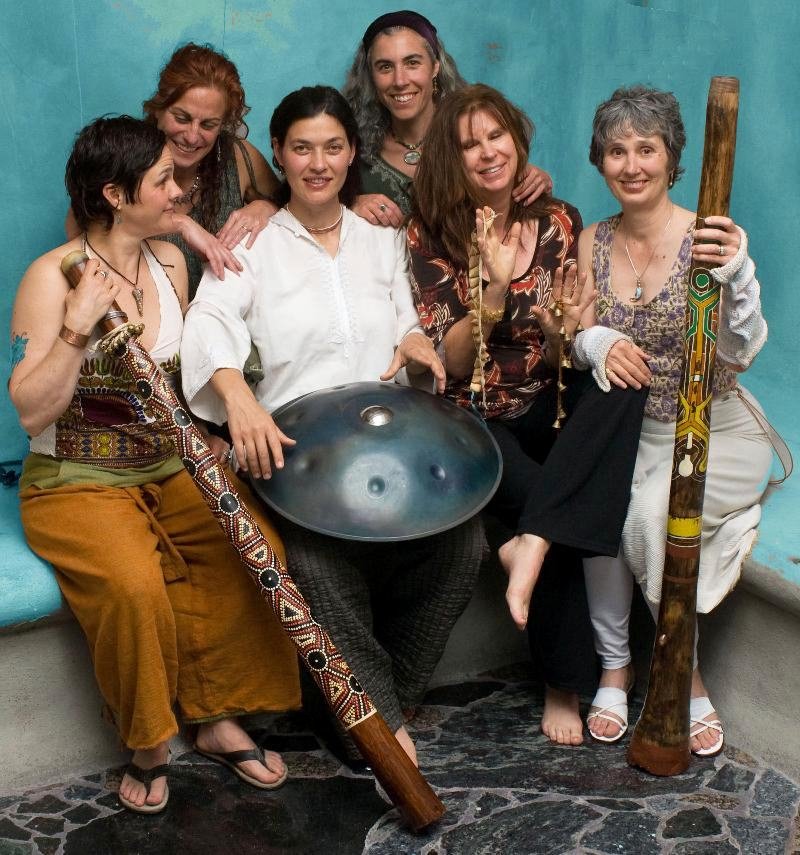 Bean & Cait also started playing with Barbara Imhoff on harp in another band project called the Arkansas Bindi Society along with Jeff Obee on bass and Jaron Lanier on every instrument imagineable including the kitchen sink...
The Arkansas Bindi Society combines Celtic, Indian and Middle Eastern-style vocals with Classically-tinged groove harp, world percussion, one-of-a-kind Asian-influenced strings and winds, and kick-ass electric bass. The instruments merge to produce a global, rhythmic, spiritual and highly unearthly timbre. The sound is reminiscent of Imhoff's Beasts of Paradise and Ring, and Haunted by Waters, McWhir, Blaine and Obee's original collaboration.
pandemonaeon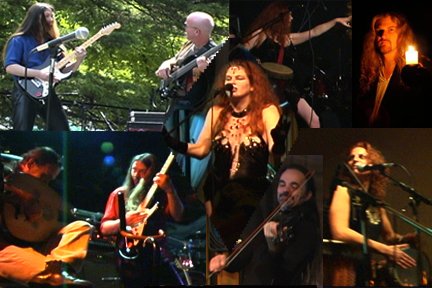 The ensemble creates soundscapes both modern and timeless by combining Middle-Eastern, Scandinavian, and Celtic folk influences with modern rock stylings. At times haunting and stark, at times driving and passionate, the result is deeply evocative. Desiring to create alternate worlds within which to deliver their dark, sensual music, they have built a strong following on the strength of their lavish live shows. Their current line-up features co-founders Sharon Knight and Winter, along with multi-instrumentalists Gari Hegedus, Tim Rayborn, Tina Blaine (Bean) and Jeff Obee on bass. Like the dark underworld of Faery that influences them, one senses that beneath the seductive beauty of their music is a fearsome witch come to slay you with poisoned tongue. More simply put, as one music fan describes them, Pandemonaeon is "music for bellydancers in combat boots." Pandemonaeon has shared the stage with artists such as Babatunde Olatunji, Pele Juju, Stellamara, Tempest, Ultra Gypsy, Reda Darwish and performed at the Oregon Country Faire, Health and Harmony Festival, Sebastopol Celtic Festival, the Great American Music Hall, Slim's, and the Mystic Theater, to name just a few. Now, after a long hiatus, Pandemonaeon returns to the public eye with the fires of inspiration burning strong. Their third recording, "Dangerous Beauty", is due for release in Autumn of 2009.
Bean has also recorded music with Brian Eno, Mickey Hart, RhythMix, Haunted by Waters, D'CuCKOO, Pandemonaeon, Bogo and Tracy Blackman, as well as composed for film, TV, radio, and game soundtracks in addition to CDs. For a discography listing, click here.
© 2009 tina blaine* bean

photo credits: susan scott, maggie hoppe, linda jacobson